To bring today's fun to the traditional game, two modern upgrades will be built into each PinShot Golf facility: each property will be fully lit with energy-efficient LEDs to allow play at night; and each property will integrate high-quality audio/video systems throughout.
These lighting and tech systems will be used to play music, to show a constantly-running game clock across the property on multiple video boards, and to present live broadcast coverage of play on the course through PinShot GolfTV.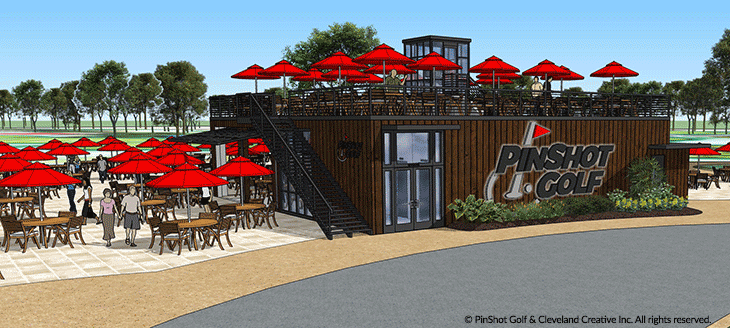 These tech systems will link to a compact, modern two-story clubhouse featuring walls made from all-glass garage doors and reclaimed wood, concrete floors that flow out to an enormous patio, and a complete kitchen and bar.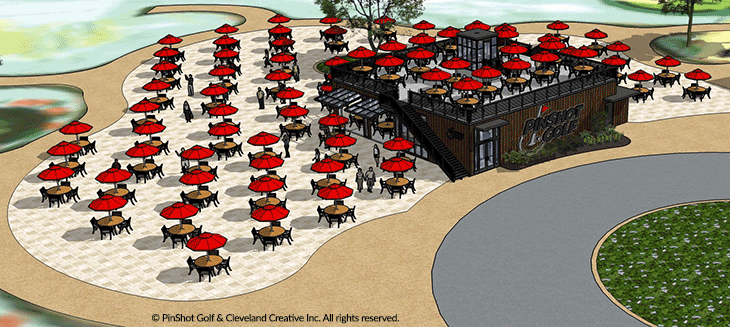 A second story deck with sweeping views of the property will hold the TV production facility and additional seating.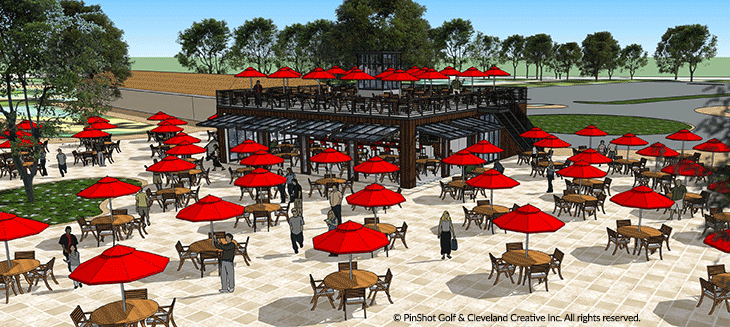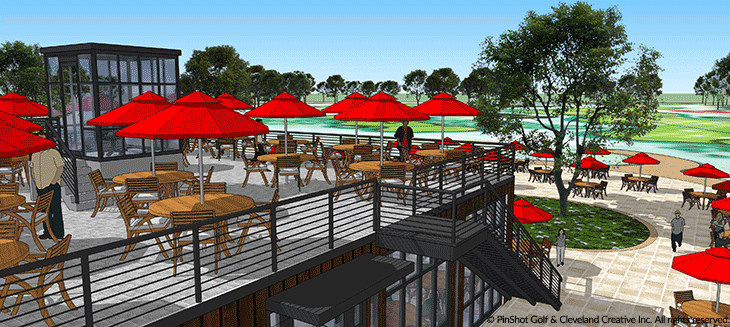 The indoor and outdoor spaces will tie together seamlessly.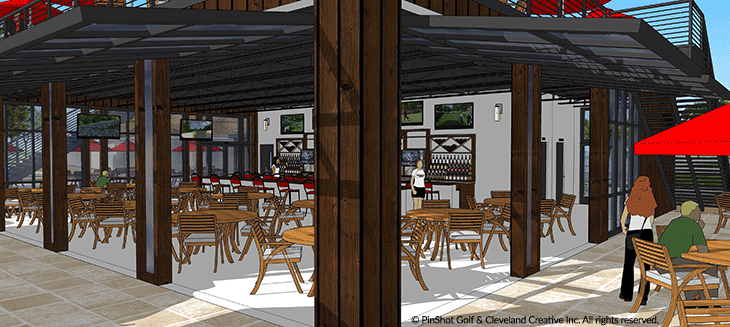 In essence, each clubhouse will be a lively sportsbar patio restaurant like those at a retail shopping center — except it's built onto a PinShot Golf course.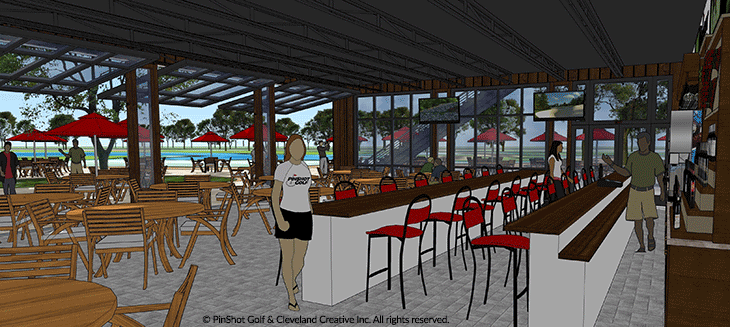 Strategically placed aluminum poles will contain the sound, video, mic and LED lighting components. Using the latest technologies, both the lighting and audio/video will be directionally-targeted so that neighboring properties are not disturbed.
Multiple remote-controlled cameras will capture video, still photos and audio. The high-tech video control center on top of the clubhouse will produce a network-quality broadcast. Mobile score-tracking apps will be available to create a live scoring feed.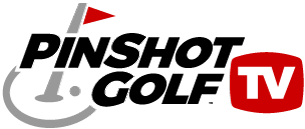 Video boards set up around the course and multiple TVs in the clubhouse area will show PinShot GolfTV, live on-site and streamed online. This content will include coverage of the players on the course, current scores for players using the scoring apps, best-of-the-day results, event and season-long standings, replays, player interviews, social media features, the constantly-running game clock, plus promotions and advertising.
If a player registers for an online account with PinShot Golf, some of this content will auto-feed to the player's social media accounts during the round. The player's PinShot Golf account can also be set up for mobile payments via credit card for any product or service offered, eliminating the need to wait in line for anything; just tap-and-go.
With the score-tracking apps and live video at PinShot Golf, daily competitive tournaments will have an all-day tee time window. Players can enter an event at the time of their choosing. Results will be updated constantly online and on-site, and any prizes won will be added to the player's account automatically at the end of that day's play. This starting time flexibility will increase competitive tournament participation significantly: daily events turn from 'narrowly scheduled' to 'all day on-demand'.