Part of the team that will build, manage and grow PinShot Golf:
Allen Freeman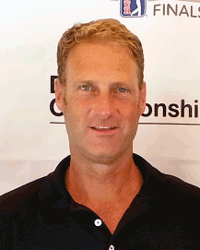 – Learned about golf as a caddie at Elyria Country Club starting at age 13;
– BA in Sports Marketing from Bowling Green State University, 1988;
– Interned then hired at the PGA Tour in Ponte Vedra, FL, in the Communications Department. Helped run the MCI Long Distance Challenge and the Merrill Lynch Shootout, and compiled player statistics while helping the Media Director manage tournament press rooms;
– Ran the Bobby Rahal Charity Pro-Am in Columbus for the Indy 500 champ;
– Provided the Memorial Tournament at Muirfield Village in Columbus with contract communications services;
– Partnered with father Gordon on a management contract for Forest Hills Golf Course, a Lorain County Metroparks facility in Elyria, OH;
– Launched an apparel company with two partners to sell logo merchandise and custom caddie bibs to a number of Tour events, pro-ams, charity events and pro shops. Sold custom apparel to major national retailers like Macys and Bealls plus many other regional customers;
– Ran the Championship Association, a scratch amateur tournament series in Greater Cleveland, selling it after 10 years;
– Formed Cleveland Creative Inc. in 1998 to build out several new online ventures and serve a handful of select marketing clients.
– Created Northeast Ohio Golf, an online golf magazine that has promoted and covered the game in Greater Cleveland since 2008. Currently, the website reaches 100,000+ unique readers each season and generates over a half-million+ page views per year. It also promotes and runs multiple regional golf tournaments;
– Still hacks it around competitively at 53 years of age; won the Cleveland Senior Am in 2016 and over the years has won a number of local and regional events. Qualified for the USGA Mid-Am Championship in Dallas in '97;
Allen and Samantha have two daughters, Elise and Colette. They live in Brecksville, OH with a winter place in Hobe Sound, FL.
CONTACT ALLEN:   golf@pinshotgolf.com  |  216-577-8756
---
Brian Huntley, ASGCA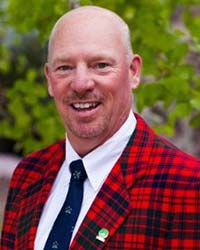 Brian is a highly experienced golf course architect: in a career that spans over 30 years, he has worked on more that 125 design and construction projects.
Brian graduated from The Ohio State University in 1986 with a Bachelors degree in Landscape Architecture.
After OSU, he immediately went to work for Arthur Hills and Associates as a Project Manager. With Art, he worked on 23 different golf course construction projects for the company through 1992. Some of the iconic properties he helped build include Bighorn Golf Club in Palm Desert CA, the Golf Club of Georgia, Jonathan's Landing Golf Club in Jupiter FL, Maumee Bay State Park Golf Course in Toledo, Ironhorse Golf Club in West Palm Beach, Persimmon Ridge in Shelbyville KY, and scores more.
In 1990, Brian launched Golf Sense Inc. in Uniontown, Ohio to begin creating golf courses under his own name and brand. The company provides a full roster of golf course architecture services, including the design of initial layouts, land planning, construction drawings, construction supervision, and final golf course detail work.
To date, Brian has designed over 30 golf course properties through his company. These designs include Eagle Creek Golf Course in Norwalk OH, Shale Creek Golf Course in Medina OH, The Quarry Golf Course in Canton OH, The Links at Continental Ranch in Tucson AZ, Beavercreek Golf Course in Dayton (in collaboration with Fuzzy Zoeller), and many others.
Brian has also created renovation or master plans for 75+ existing courses under his business, including the Sharon Golf Club in Sharon OH, Shady Hollow Country Club in Massillon OH, Congress Lake Club in Hartville OH, Westwood Country Club in Rocky River OH, and many, many more.
Brian is a long-time member of the American Society of Golf Course Architects and has served on its Board of Governors. He is also a member of the American Society of Landscape Architects, the Northeast Ohio Golf Course Superintendents Association, and an Associate member of the United States Golf Association.
Brian lives in Uniontown with his wife Jacquelyn, and he has two adult sons, Joseph and James. He loves to play the game competitively, follow environmental issues, and is a fan of travel, fitness and sports.
CONTACT BRIAN:   bhuntley@neo.rr.com  |  330-495-4157
---