Each PinShot Golf course will consist of 12 well-designed holes that fully surround a modern sportsbar clubhouse. A tee or green from nearly every hole will sit near that clubhouse to enhance socialization, to provide players easy access to food & beverage, and to minimize the property footprint.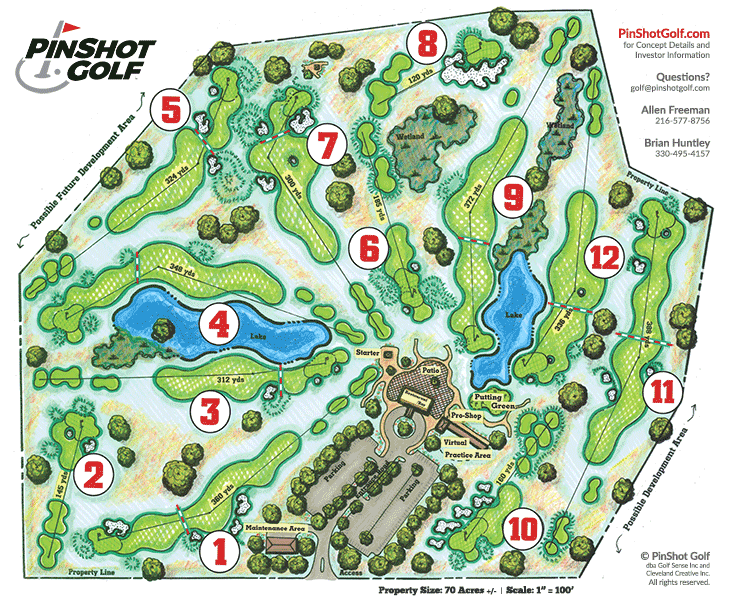 The appearance and playability of the course will be classic golf: natural-looking holes, varied ground features and grasses, native landscaping, some specimen trees, a sprinkling of water and wetlands, strategy options for risk/reward.
The greens will be of country club quality, built and maintained at better-than-average speed; this is critical to hold the interest of frequent golfers and scratch players. The green complexes will feature sloping putting surfaces surrounded by bunkers, rough, run-offs, and chipping areas – but always with a path to play a run-up shot from the fairway for those who can't fly the ball high.
The design of the layout will be unique to each facility, incorporating natural elements specific to the geography. A course will require about 65 acres.
Each course will feature four par-3 and eight par-4 holes – a total of 12 holes with a par of 44. The holes will vary in length and character. From the back tees, par-3s will range from 120 to 185 yards, and par-4s from 300 to 390 yards. To offer everyone a comfortable yardage, there will be four sets of tee boxes on each hole, each 20 yards forward incrementally.
Strategy, shot-making ability and short-game prowess will be more important than pure length and strength. Doglegs, wetlands, bunkers, native grasses, rough, trees and mounding will provide a clear landing area for tee shots of about 200 yards on a par-4, while penalizing any tee shot hit past that distance — by design and by rule.
Each course will be built for walking, with no cart paths or motorized golf carts. But Golf Boards and lightly motorized golf bikes will be available for rent.
A virtual driving range will allow players to warm-up, practice, take lessons, even get fitted for new clubs. This long, narrow, compact structure will feature 15-20 hitting bays, each one netted, padded and enclosed on all sides. Each bay will contain a video screen and launch monitor, with a full data display that will attract many players by itself.